Jomon sugi is famed as Japan's oldest tree and it also ranks as one of the oldest trees in the world. However, estimates range from 2200 – 7200 years old which leads to all kinds of speculation over its actual age.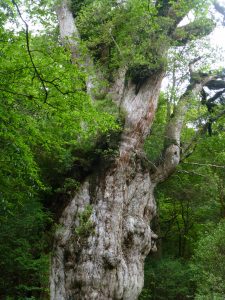 Jomon sugi was 're-discovered' in 1966 by a local civil servant. It's discovery, along with other factors at the time, helped bring about the cessation of the industrial-scale logging on the island in 1970.
Although not technically challenging, the hike to Jomon sugi is a long day starting early in the morning. 10 hours is about the average time to complete this hike. Between March 1st to November 30th private vehicles are not allowed to the Arakawa Trail entry point and so hikers must take the obligatory bus (1,400 yen return) to the mountain entry.
The early part of the hike has some interesting historical features while walking along the old railway line that was built 100 years ago to transport lumber down to Anbo. The line is still in use and occasionally a train passes by. The railway line passes the abandoned logging village of Kosugidani. Very little remains of this village that was abandoned in 1972, almost as soon as the logging industry had stopped in this region of the island.
Although there are certainly things to see along the 8km railway line , it's not until leaving the rail track and entering the forest that this hike comes into its element. Within 30 minutes there is the recently fallen Okina sugi (a 2,000 year old cryptomeria that fell in 2010) and soon after this is Wilson's Stump. This enormous stump is the remains of a tree probably cut down in the 1580's under the order of Toyotomi Hideyoshi. After more than 400 years of very wet conditions, the stump still remains intact and it is so large that walking around inside is one of the highlights of this tour.
Approaching Jomon sugi there are a few gigantic trees along the way: Diao sugi being the most impressive. This giant is aged around 3,000 years old. Gone are the days when upon arriving to Jomon sugi you could hug the tree! Instead observers have to be content with viewing it from a few platforms located at different angles about 15m from the tree. In the winter you can be alone on this platform, but do not expect to be alone between March – December.

There are plenty of places to re-fill the water containers on this trail. During busy periods such as Golden Week, the summer months and October then expect to wait up to 30 minutes to go to the washroom.
Level 4/5 | Distance: 22km | Time 10 – 11 hours | Altitude 600~1300m
Guide Rate (per person)
1 person: 56,000円
2 people: 30,000円
3 people: 25,000円
4 or more: 20,000円
included in the guide rate: transportation | lunch bento
Excluded in the guide rate: bento breakfast | obligatory return bus fare to the Arakawa entry (1,400 yen per person) | environmental maintenance fee (1,000 yen per person)